A Quick Guide to Financial Statement Services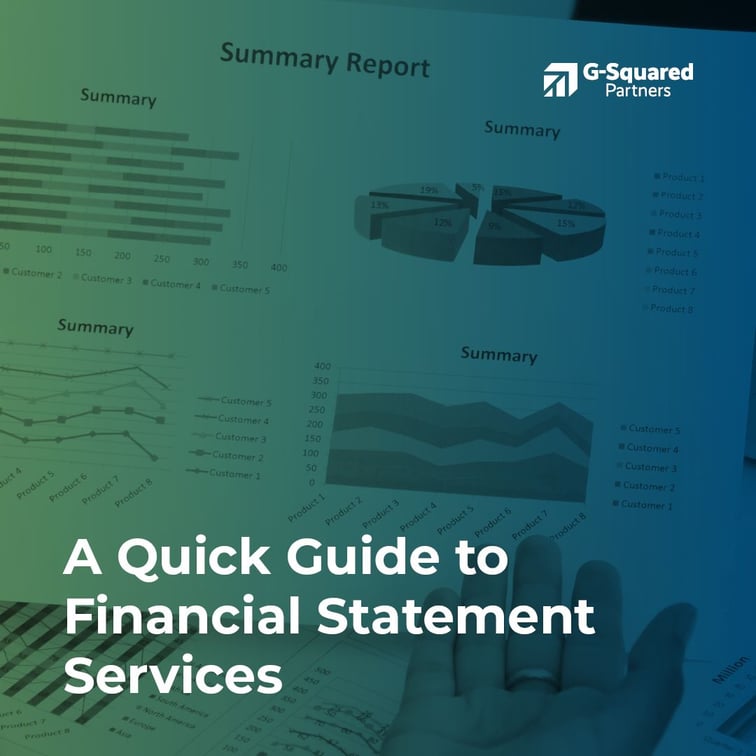 Does your business have a clear and concise picture of its finances? Financial statement services revolve around a comprehensive approach to the preparation, review, and analysis of your business's financial statements — one that's essential for organizations of all sizes.
When you engage with a professional financial statement preparation service, you ensure that your financial data is aligned with commonly accepted accounting principles and delivers a fair view of a business's financial position and performance.
These statements act as a compass, delivering critical insights into an organization's fiscal health.
To help you understand the value and necessity of financial statement analysis and the role financial reporting services might play in your operations, let's take a closer look at financial reporting and how financial statement service providers can help your business grow.
G-Squared Partners serves as a strategic financial advisor, providing a sophisticated suite of financial statement expertise, accounting, and bookkeeping services to businesses across various industries. To learn more about how we can support your business, schedule a consultation now.
Understanding Financial Statement Services
Reliable financial statement services encompass a wide range of activities:
Financial statement analysis
Financial statement preparation
Financial statement review
These services often require the support of experienced financial professionals to ensure that statements align with generally accepted accounting principles (GAAP) and that these documents and reports accurately reflect a company's financial position.
While accurate financial statement preparation is key, often, the scope of work performed by financial statement service providers is broad and extends beyond simple preparation. This includes everything from compliance checks to offering financial statement assurance and analysis.
In practice, there are three major statements that a company might prepare on a regular basis:
Income statements
Balance sheets
Cash flow statements
A reliable financial statement service will have the expertise needed to juggle all of these elements to deliver critical insights and information to your team.
Importance of Reliable Financial Statements
While we've demonstrated how a reliable financial statement preparation service might impact your business operations, it's worth considering the importance of these types of documents.
These types of financial statements are critical for decision-making. Whether it's for investors and lenders or for leadership and management, financial statements are an invaluable tool.
They help businesses better understand their viability and financial stability. They're also essential for potential investors looking to build long-term relationships with your organization.
Accurate and timely financial statements are also essential for compliance. Standards put in place by regulatory bodies like the Financial Accounting Standards Board (FASB) require companies to prepare and present accurate financial statements regularly.
Benefits of Working with a Professional Financial Statement Service
When a business partners with the right service provider, they not only receive financial statement expertise but also a whole host of other key business benefits.
First, the right financial statement service provider will always work toward accuracy and compliance with GAAP. These professionals will do the work of scrutinizing every financial transaction to ensure accuracy and compliance — supporting your financial health and mitigating possible legal repercussions.
Another significant benefit is in the timeliness and efficiency of financial statement preparation, which is crucial for internal planning and decision-making.
Expert financial service providers will come ready with streamlined processes in place. This allows for the efficient and timely preparation of these important documents. As a result, you can expect time savings for leadership and management positions, allowing them to focus on strategic and revenue-generating activities.
When your business partners with a professional financial statement service, you also gain a clear advantage in expertise and knowledge. Service providers come ready with a profound understanding of the complex financial reporting landscape, as well as the strategic knowledge to help you interpret the meaning of the numbers in your financial statements.
All this leads to better performance in specific areas, whether that's easier access to business financing or improved knowledge of the profitability drivers of your business.
Choosing the Right Financial Statement Service Provider
The importance of financial statements and reliable service providers cannot be understated. These types of reports and documents are mission-critical, helping businesses grow with a firm financial foundation and a focus on enacting sustainable decisions.
But, partnering with the right financial statement consulting service is a challenge in and of itself. To help you find the financial reporting service that pairs with your business goals, here are a few key considerations to keep in mind:
Assess your business needs and requirements: what size is your business? What industry are you working in? Identifying the appropriate level of service is essential. Often, providers offer either full and comprehensive packages of services or can provide simple assistance.
Consider regulatory and stakeholder expectations: certain industries or jurisdictions may have unique requirements around standards and reporting. Moreover, you need to factor in stakeholders, investors, creditors, and the expectations of your internal team members.
Evaluate service providers and their expertise: look for providers with a proven track record for accurate performance. Assess their industry knowledge and find a service provider that can offer valuable insights and industry-specific expertise.
Review cost considerations: while cost shouldn't be the deciding factor, what your business can afford will guide your choice. Just remember that partnering with a high-quality provider is just as much an investment in your company as raw capital.
G-Squared Partners: Your Experts in Financial Statement Services
There's no room for business leaders to ignore the role financial statements play in everyday operations. Through comprehensive financial statement preparation, review, and analysis, businesses can achieve accurate financial data reporting, gain invaluable insights into their fiscal health, and meet the demands of regulatory compliance.
Here at G-Squared Partners, we understand the unique financial needs and challenges your business faces every day. Our mission is to deliver customized service solutions, like financial statement services, to meet those demands and help your team grow and succeed.
Our financial experts are ready to help build your company's future with accurate and timely financial services. For more information, be sure to connect with the team to learn more about our current offerings.