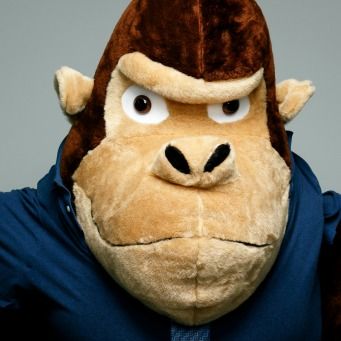 Chief Cultural Officer (CCO)
Gordon Gorilla
Gordon Gorilla provides operational consulting and HR support to our G-Squared team. His primary job is to keep us all happy, productive, and well stocked with lucky bamboo and make sure we never take ourselves too seriously. On a daily basis, Gordon can be found greeting office guests and starring in photoshoots for the G-Squared Instagram profile.

A proud alum of Pittsburg State University (in Kansas), Gordon earned a degree in Primate Human Relations and developed a lasting friendship with the school's mascot, Gus the Gorilla. During his tenure at Pittsburg State, he was the starting offensive lineman on the football team. Go PSU! Moving from the rainforest to Kansas was a shock for Gordon. After all there's no place like home. However, he soon learned to love the snow and decided to set down roots in Fort Washington, Pennsylvania.

In his free time, Gordon likes to learn sign language and enjoy all the delicious food an opposable-thumb primate can consume. Known in the office as a "foodie," he enjoys exploring local parks to search for bamboo for his all-natural, vegetarian dinners. Gordon is a passionate supporter of the World Wildlife Fund and does his part to support endangered species conservation.