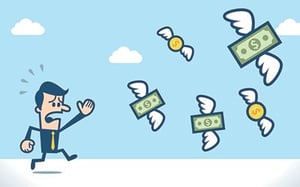 As a CEO, you're expected to set the strategy and direction for your company, lead the executive team, and generally meet the needs of employees, customers, investors, communities and the law. Your responsibilities can feel endless, particularly if you're a startup. In your pivotal role, the success or failure of your firm sits on your shoulders. The ultimate sin? Running out of cash!
Among the 20 primary reasons that start-ups fail, the number-two cause is that they "ran out of cash," New York-based CB Insights said in a recent report. CB Insights analyzed over a hundred startups, postmortem. (In case you're wondering, the number-one cause was that the market didn't need the product a company was building.) So, what steps can you take to properly manage cash flow?
1. Check profitability and stay ahead of the curve on cash-flow management.
First, make sure your company is earning a reasonable profit. If it's not, then determine whether your products and services are appropriately priced and work to eliminate inefficiencies. However, be careful not to concentrate too heavily on profit. Maintain your focus on cash flow and spending. Knowing your break-even point can be beneficial as well. While it won't necessarily impact cash flow, it'll give you goals to strive for and a ready-made target for forecasting where your cash should go in order to reach those goals.
2. Create an annual cash flow projection.
Mastering cash flow projections is a must. Using a basic spreadsheet as your tool, a cash flow projection allows you to see when money comes in, when it goes out and what money is left at the end of each month after you've paid your expenses and recorded your income.
Knowing your numbers in terms of cash flow projection helps you to plan and anticipate for coming months, identify potential shortfalls in cash balances; and see when problems or cash shortfalls are likely to occur so you can plan to avoid them.
Be sure to check your actual cash position regularly, such as weekly or monthly, against your projection to judge how you're doing and so you can pivot quickly when needed.
3. Maintain a cash reserve.
As soon as your firm begins to generate sufficient cash, establish a cash reserve. Shortfalls are be expected despite the best-laid plans, especially at the startup phase. Reserve cash can help see your business through changes in market demand and pay for unexpected business expenses. Alternately, a cash reserve can allow you to take advantage of business opportunities that arise.
Some companies make the common cash-flow mistake of buying major long-term assets, such as expensive equipment, rather than taking advantage of financing or leasing options. Consider that by paying for major assets over time, you'll hang on to precious capital you may need to keep your business going.
4. Collect receivables immediately.
When it comes to invoicing, require that payments are "due immediately" or with net terms no longer than 15 days. Make it easy for clients to pay electronically (this brings money into your account quickly), charge interest to those who are slow to pay, and even offer discounts for early payments. Continually evaluate to see what works for you and how your customers are performing against your terms.
You want to make sure your customer terms and supplier terms are balanced so you don't find yourself in a situation where you have to "float" cash. Regularly check how your supplier terms stack up against others in the market. You might even discover that you're missing out on a discount if you were to pay earlier. While this may run counter to your goal of shortening the receivables-payables gap, the money "saved" may be worth it.
Once you build a relationship with your suppliers, you may be in a position to negotiate for future discounts or payment terms better suited to your business cycle.
5. Only spend on what is essential for your business.
Through your annual cash flow projections, you'll gain a solid understanding of your necessary expenses. Until your company becomes profitable, buy only the absolute essentials when you need them so you can reduce the amount of debt you accumulate and, thus, the financial risk you take with your business.
6. Outsource non-core functions, such as finance, accounting and HR.
Outsourcing, rather than hiring, offers significant savings that can help reduce your cost structure. By offloading essential tasks to a trusted firm, you can focus your attention on your core business.
An outsourced CFO can help with financial projections, cash forecasts, operating budgets, financial plans, pricing, reporting, debt management, M&A, equity and debt negotiations and liquidations. Even if your financial status doesn't warrant hiring a CFO, you still need financial support—from day-to-day accounting to regulatory compliance. Outsourcing your bookkeeping will give you the support you need for cash management, AP/AR, financial close and taxes. An outsourced human resources partner can help manage employee benefit administrations as well as recruit new talent to your business.
It's important to understand that you don't outsource to make a service disappear. As CEO, you must stay apprised of what's happening as you outsource to reduce your cost structure and keep your internal resources focused on your business.
Talk to us about our outsourced finance, accounting and operational services. Our team can help you to project and increase your cash flow. G-Squared provides advice for managing cash flow to CEOs and entrepreneurs in Philadelphia, New York City and Washington D.C.