The resources below have been curated to keep you up to date and armed with the tools you need to not only survive post-pandemic business challenges but to grow and thrive in potentially new ways. Please explore the resources below, which we will update regularly. We invite you to subscribe to receive our regular email alerts and updates, fill out the form on this page.
And you are always encouraged to contact us directly to book an initial conversation to see if we may be able to help your business adapt quickly and strategically as things continue to change.
---
Featured Resource – New!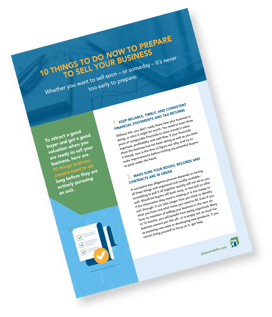 To attract a good buyer and get a strong valuation when you are ready to sell your business, our checklist outlines 10 things business owners need to do long before they actively pursue an exit.
---
Business & Financial
COVID-19
How COVID-19 Has Reshaped M&A Agreements | Law 360

New!




The COVID-19 pandemic has changed the way we do business, and merger and acquisition agreements are no different. Dealmakers are starting to negotiate more specific advertise affect clauses and have begun leaning on earn outs.



How to get a small-business loan under the Biden administration's new PPP rules

|

Washington Post -

New!




The Biden administration has announced a series of changes to the federal PPP program to ensure that more funding goes to SMB's. Most notably, companies with more than 20 employees will no longer be eligible to receive funds.

Managing Through COVID-19: Six Imperatives for CFOs| CFO Publishing


In this period of rapid economic deceleration and uncertainty, there are six distinct imperatives can help CFOs protect their companies and workforces




Don't Mention the Virus! And Other Marketing Tips | The New York Times
Brands and influencers want to sell products to homebound customers, but doing so requires being sensitive to the reality of the pandemic.


What Does It Mean To Be Resilient?

| Forbes


There's a misinterpretation that resilience is about being fearless, being tough or just being able to pick yourself up by the bootstraps. These misperceptions are especially prevalent in business circles. That's a big problem because this way of thinking can actually make business leaders less resilient.


Business leaders are concerned, and rightly so, for the welfare of their people and their organizations. In the face of a global crisis, well-prepared businesses can help protect their workers and their bottom lines.
---
Sign Up to Receive Future Updates