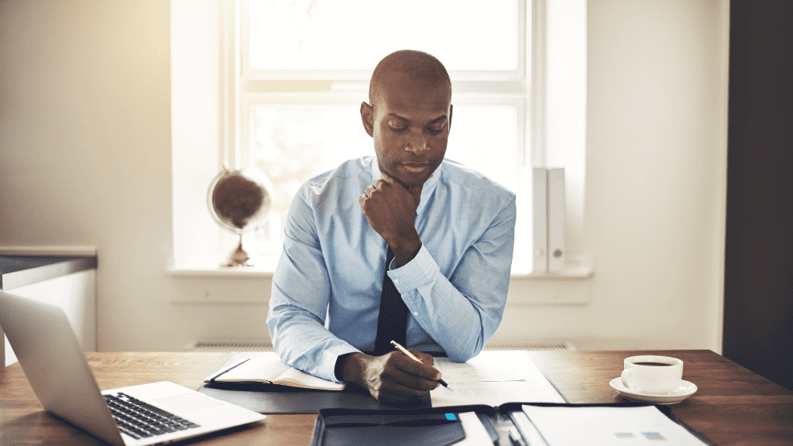 Outsourcing is a persistent and growing trend for businesses of all sizes for a number of compelling reasons.
There are many supporting functions in business that are required to keep a company operating, but having employees on the payroll in these roles is often not the best way to meet the need.
In some areas, such as marketing, website design and maintenance, HR, and internal IT support, the level of ongoing activity may not justify adding full-time positions.
Other functions require investments in technology or infrastructure that a business may not want to own outright, such as customer order fulfillment, manufacturing, or shipping and logistics.
Outsourcing the accounting and finance roles often makes sense for small to mid-sized businesses.
In this article, we discuss why this is a good solution and point out unexpected benefits of outsourcing that can substantially impact a company's overall success.


Outsourced accounting services provide flexibility
Most small to mid-sized businesses do not need a full-time accounting and finance department headed by a CFO.
Unfortunately, that often leads to the incorrect conclusion that a part-time bookkeeper who closes the books every month is the right solution. That would be like recognizing that you do not need and cannot afford a high-end sports car, then choosing to get by with an electric scooter. Electric scooters serve a useful purpose at a low price, but they will not meet your ongoing transportation needs efficiently.
Similarly, while you may be able to get by with having a bookkeeper come in for a few hours a month, there is much more to the accounting and finance function than recording receivables and payables.

With outsourcing, you can meet your needs cost-effectively and gain access to professional expertise as needed – in other words, when you need the sophistication of a high-end sports car, outsourcing to the right firm gives you access to that. When you need less, you use fewer features – it all depends upon the ground you need to cover at the time.
Read More: What is the Cost of Outsourcing Accounting Services in 2022?


Five reasons to choose an outsourced accounting firm for full-service accounting
If you are thinking about outsourcing accounting and finance for your business, here are important things for you to consider.
The "Accounting and Finance" function covers three main areas:
1) Financial accounting – focuses on processing and recording transactions for the business, including sending invoices, managing receivables, pursuing collections, paying vendors, and managing payroll.
2) Controller functions – involves closing the books each month, preparing financial statements, and calculating key metrics from those statements (such as accounts receivable aging schedules, profit margins, etc.).
3) CFO activities – in charge of creating and updating budgets and forecasts, analyzing key drivers of profitability, developing a financing strategy, supporting lender relationships, providing financial data for board presentations, assisting with capital raises, providing support for M&A activities.
Many outsourcing firms specialize in just one of these areas. For example, you could outsource your accounts receivable function (billing and collections) to an accounting service. You could hire a firm to close your books each month, or you could find an outsourced CFO to create forecasts, analyze customer acquisition costs or determine product-level profitability on a per-project basis.


However, there are tremendous advantages to working with an entity that can handle all three functions for you.
1. It is better for your business to use a full-service outsourced accounting and finance firm that sees the "big picture" of your financial condition. The functions listed above are all interrelated and outsourcing all of them to a single firm that has expertise in all three allows for information-sharing.

A firm that only deals with the accounting side of your company's finances do not see how last month's changes in receivables, payables, and inventory affect your cash flow forecasts going forward, or how sales, margins, and turnover affect KPIs that may affect strategic decisions.

2. If something goes awry in one area, it is time-consuming and cumbersome if one outsourced firm has to turn to another outsourced firm to get information.

For example, if certain costs look out of line this month, or key ratios start to move in the wrong direction, it will take time and extra effort for an outsourced CFO who is "cut off" from the bookkeeping and controller functions to find out about the issue and to determine the cause.

3. When a big project arises, a full-service outsourced accounting and finance firm can marshal the resources you need, right away. For example, if you receive an unexpected inquiry about acquiring your business, a firm like G-Squared Partners can organize all of the financial records that will be needed for due diligence.
A full-service outsourced firm will already know your company's finances from top to bottom; if you outsource your bookkeeping to a firm that does only that, you will have to find, get comfortable with and educate a firm with CFO capabilities, delaying your ability to get that big project completed.
4. Similarly, a full-service firm can scale up or down as needed. Your business may have monthly bookkeeping tasks, you may need to make quarterly board presentations, and you may go through a detailed budgeting exercise annually. Working with a single firm that you trust, a firm that can bring the right resources according to the ebb and flow of your accounting and finance needs, makes much more sense than engaging (then disengaging, and re-engaging) with different firms throughout the year,
5. A small business with a limited need for CFO-level skills would have difficulty attracting a high-quality CFO for an in-house position. The reality is that qualified candidates would seek a more challenging, fulfilling opportunity; that means there is a good chance that a small company trying to hire a CFO faces a limited pool of quality applicants. In contrast, a full-service outsourced accounting and finance firm can bring CFO experience and talent when the need arises, then step back.
Integration across the areas covered by accounting and finance is critical to gaining and maintaining a complete understanding of a company's financial situation.
Contact our award-winning outsourced accounting firm
As a full-service outsourced accounting firm, G-Squared Partners is able to understand our client's complete financial picture, highlight and investigate potential problems that a bookkeeper with limited responsibilities would likely miss, and act as a partner to the CEO, ready to assist with any project that requires financial expertise.
Interested in exploring whether outsourcing would be a good approach for your firm? G-Squared Partners can meet all of your accounting and CFO needs.