Navigating The Biggest Accounting Problems Growing Companies Face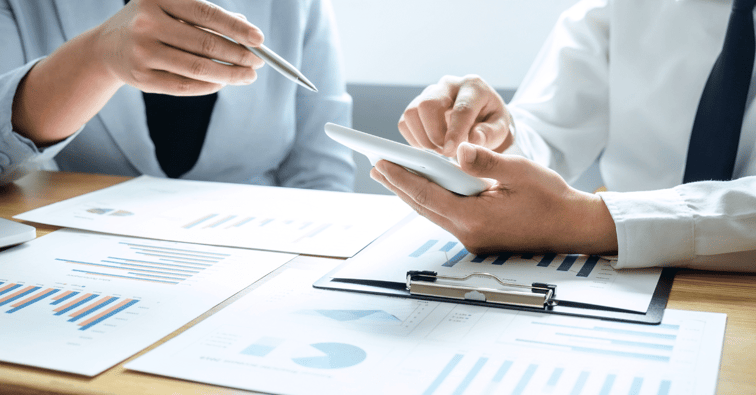 If you are an entrepreneur, one of your biggest challenges is how your company adapts to growth.
Growth is a sign that your business is doing something right and going in the right direction. But, sometimes, there are growing pains for companies as they move to the next stage.
Although growth is inherently good, it may also get in the way of efficient operations, especially accounting operations.
Growth Mode: The Biggest Accounting Problems in Business
Accounting-related issues are nothing new, especially to small businesses determined to grow.

Here are seven common challenges early-stage companies may face:
Accounts receivable outruns sales and the ability to collect payments
Inefficient accounting software
Inadequate internal systems and procedures
Managing overhead costs
Closing the books accurately and timely
Managing payroll
Tracking stock option grants and other issuances
How Do These Issues Impact Growing Companies?
As your company grows, it becomes harder and harder for you, as the owner, to keep track of its accounting functions. You have other responsibilities, like pursuing your vision for the company. Budget and cash flow concerns may fall by the wayside when big-picture decisions are at stake.


Accounts receivable outruns sales and the ability to collect payments
In times of sharp growth, accounts receivable increase quickly, and without the ability to collect efficiently, your cash flow will be affected.

For more on the mechanics of cash flow, take a look at the article "Cash Flow 101: Tips for Management, Projection, and Long Term Improvement".
Inefficient accounting software
You may have invested in introductory accounting software when your company started. And while this software serves a purpose, it is likely not enough to meet your growing needs without integrating additional sophisticated software, functions, and resources, which costs you time and money.
Inadequate internal systems and procedures
When your company does not have the tools, resources, and proper internal controls to support accounting operations, your ability to manage funds is severely affected and could even result in untoward behavior from internal or external sources.
Managing overhead costs
Businesses use a portion of their net profits to pay overhead costs each month, so either an accountant (or a reliable software program) must correctly calculate those costs.

Growing businesses should consider hiring an accountant to ensure all fixed, variable, and semi-variable overhead expenses are identified and assessed as part of a long-term growth strategy.
Closing the books accurately (and timely)
Finalizing reports at the end of each month and the end of the year is essential for maintaining your company's financial transactions. Not closing the books creates misreporting in the affected period's earnings and may result in additional errors in the current financial statements.
Related: 5 Key Financial Questions Many Business Owners Can't Answer
Managing payroll
As a business owner, you are responsible for keeping accurate employee records, tracking employee hours (if applicable), calculating gross and net pay amounts, reconciling payroll, and more.
Incorrectly managing payroll or lacking the resources to manage payroll effectively can lead to severe headaches down the road, leading many small businesses to hire a payroll company or specialist to manage the process.
Tracking stock option grants and other issuances
Providing stock option grants and other issuances to employees is an excellent way to attract top talent, but business owners must execute it delicately. If miscalculations are made early in the process, it may result in costly and complex problems down the line.


How Do You Solve These Problems?
For emerging companies, there will always be accounting challenges as you grow. If your accounting operations are facing these problems or similar ones that impede growth, you need to take action to fix looming issues. Start by hiring a good accountant who can help manage all the accounting functions in your company.
An increasingly popular trend for emerging growth companies is considering outsourcing some or all of their accounting services. This model allows for scalability and cost-effectiveness in paying for the exact services and resources you need when you need them.
For example, a strategic finance and accounting partner will take to remedy issues with accounts receivable is sending automatic reminders to customers throughout the accounts receivable aging process, allowing your company to collect payments faster and increase your cash flow.
The right partner will successfully manage your finance and accounting functions while ensuring you, as the leader of the business, fully understand where your finances stand.
Ultimately, entrepreneurs helming growing companies should take an active interest in their accounting operations. While it may not be your specialty, it is where all funds flow in and out of your business.
You can outsource the work, but you need to know what is going on if you are going to drive success.
For more information on hiring an outsourced accounting firm to help you tackle these challenges, schedule a free, no-obligation consultation with Gene Godick, President of G-Squared Partners.


Read More:
5 Business Benefits To Practicing Proper Daily Accounting: From accounts payable and receivable to payroll, cash flow, taxes, and everything in between, the overall health of your business is tied closely to how you approach your daily accounting tasks.
Overlooked accounting benefits? Although saving money is a great reason to utilize an outsourced accounting firm, there are other benefits you may have overlooked. Explore more in the article "7 Overlooked Benefits of Outsourced Accounting Services"

Deploying Capital…Wisely: The proper focus in deploying capital depends on where a company is in its growth and whether it offers a product, makes software, or delivers a service.