Cost-Effective Real Estate Accounting: Why Outsourced Accounting Is Best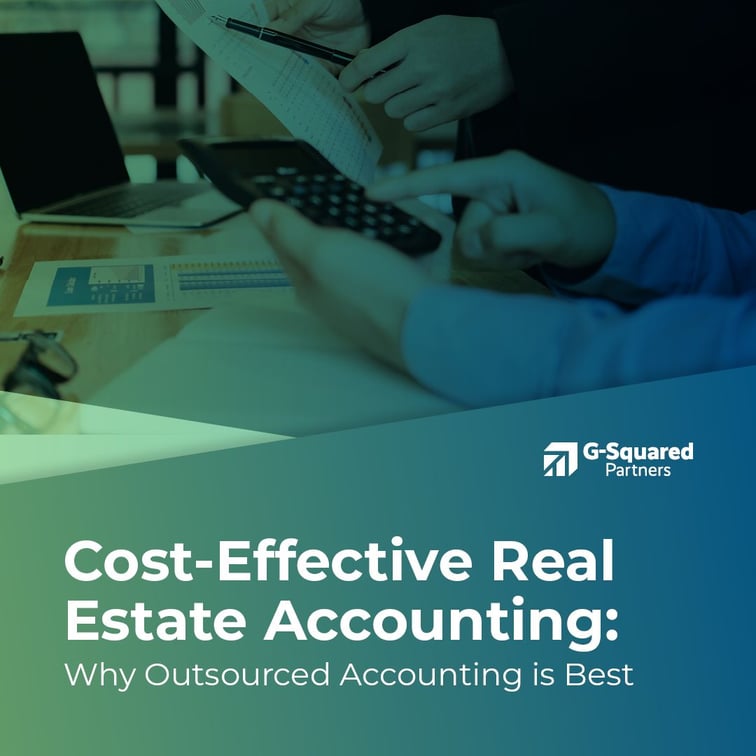 Today's commercial real estate (CRE) environment is constantly evolving. From managing volatile interest rates and geopolitical pressures to understanding recent occupancy trends in retail and office building markets in the post-COVID era, these turbulent waters present unique challenges and opportunities for business operators.
In this increasingly dynamic and uncertain landscape, CRE operators must understand the benefits robust accounting processes and reliable financial data can provide their operations. The cornerstone of any successful CRE fund is a strategic understanding of its financial position.
Having clear, concise, and accurate financial data should not be a luxury; it's an essential component of operating a CRE fund. With this in mind, let's explore the benefits of working with an outsourced accounting service.
G-Squared Partners brings insight and expertise to CRE businesses at a fraction of the costs associated with hiring and managing in-house teams. Our goal is to provide your organization with the strategic financial accounting services and operational expertise you need to accelerate your success. Get in touch to learn more about how we can support your CRE organization.
What Does an Outsourced Commercial Real Estate Accountant Do?
Outsourced accounting services provide CRE operators with a comprehensive suite of critical services for successful portfolio management. This type of specialized support is helpful for businesses of all sizes, but particularly for small to mid-sized funds that don't have the capacity to justify a full-scale, in-house accounting department.
To help CRE operators further understand the role of outsourced accounting, let's further explore these services:
Commercial Real Estate Bookkeeping:

outsourced bookkeeping services

start at the base level of financial management and can help manage labor-intensive tasks such as categorizing transactions, compounding data for monthly reports, reconciling bank accounts, managing payroll, and much more.


Commercial Real Estate Accounting:

outsourced CRE accountants

are responsible for running daily operations necessary to keep a fund running efficiently. This includes creating reports summarizing portfolio performance, preparing dashboards, managing bookkeeping staff, and much more.


Commercial Real Estate CFO Services: at the highest level,

an outsourced Chief Financial Officer

(CFO) provides business-specific strategic leadership and insight while managing a host of responsibilities, from building internal accounting and finance frameworks to establishing budgets for new projects.
Outsourced accounting services deal with a wide spectrum of financial tasks, ranging from basic bookkeeping to more involved aspects of managing a CRE fund, like developing strategic financial management frameworks.
These services provide CRE operators the financial expertise and support they need to navigate the intricate complexities of the commercial real estate industry and find areas for growth. Understanding the role of outsourced accounting services for CRE funds underscores their value, but the benefits of these services don't stop at task delegation.
8 Reasons for Commercial Real Estate Operators to Outsource Accounting
To keep up with both the current challenges as well as upcoming trends in the CRE market, funds need flexible, efficient, and expert accounting support.
Outsourced accounting services offer tailored solutions that can meet a fund's specific needs. The relationship between the CRE fund and the outsourced accounting team is specifically designed to promote flexibility and scalability, offering funds comprehensive support that can evolve with an organization's growth plan and shifting accounting requirements.
Some of the key benefits of working with an outsourced accounting firm include:
Profit Maximization
Time Savings
Peace of Mind
Access to Expertise
Exposure to Other CRE Professionals
Scalability
Strategic Financial Insights
Risk Management
Let's explore each benefit in further detail.
Profit Maximization
Running an in-house accounting department can pose a significant cost burden on a CRE business. From salaries and benefits to ongoing training and management, it takes a substantial amount of capital to do this successfully.
Outsourced accounting services offer businesses the ability to scale support as needed, ensuring funds only pay for the services they require and when they need them most. This kind of flexibility can lead to considerable cost savings. Moreover, working with accounting and finance experts helps to eliminate costly errors, allowing funds to allocate funds more strategically.
Time Savings
Time is a valuable commodity in the fast-paced world of commercial real estate. Managing and dealing with complexities of accounting can quickly eat up time, especially for CRE operators tasked with managing a diverse portfolio of properties.
Outsourced accounting services help reduce the time burden of these essential financial tasks, freeing up valuable time that business leaders can more efficiently allocate across internal teams to put toward strategic initiatives such as property acquisition, investor relations, and much more.
Gain Peace of Mind
CRE operators face a unique set of challenges and risks. Whether it's staying on top of tax regulations, keeping accurate and timely records, or ensuring compliance, outsourced accounting services can ensure these essential tasks are handled professionally.
With the expertise of financial experts on their side, CRE funds can mitigate possible potential issues, giving the ultimate peace of mind to operators and freeing up focus for other critical business operations.
Access to Expertise
When a CRE fund works with a professional outsourced accounting service, they get an expert partner with a wealth of knowledge and expertise. Since these service providers work closely with a range of commercial real estate industry professionals, they are intimately familiar with the nuances of the market.
Their insights are invaluable for CRE operators hoping to navigate financial complexities, optimize their financial management, and make better-informed decisions.
Exposure to Other CRE Professionals
When a CRE fund partners with an experienced accounting service, they open up opportunities for networking and collaboration with other industry professionals. Since these firms have extensive connections within the commercial real estate ecosystem, they can connect a CRE fund with other professionals like attorneys, bankers, or investors.
Leveraging these connections can provide additional benefits to CRE operators, from legal advice to valuable financial partnerships.
Scalability
As a CRE fund grows, the complexity of accounting needs grow as well. An outsourced accounting team can scale with business operations, providing more services as a portfolio expands.
This also works in the opposite fashion, with service needs reducing during quieter periods of operations. This kind of scalability ensures CRE operators aren't overpaying for services they don't need while still retaining access to expanded services as required.
Strategic Financial Insights
Outsourced accounting teams do much more than just crunch numbers. These financial professionals are also ready to offer CRE operators strategic insights into financial data to help organizations understand potential opportunities and make better data-driven decisions.
Whether it's assessing the profitability of a potential investment or improving cash flow management, an outsourced accounting team can offer CRE professionals strategic insights into everyday business operations.
Risk Management
Risk management is an essential pillar of any CRE fund. An outsourced accounting service can help operators identify possible risks and ensure the business is ready for potential market disruptions, interest rate changes, or other financial risks.
An experienced outsourced accounting team can help develop rigorous risk management strategies, maintain proper insurance coverage, and ensure compliance with relevant financial regulations.
G-Squared Partners: Outsourced Accounting and Financial Leadership for Commercial Real Estate Operators
In light of the amazing benefits outlined above, it's clear how outsourced accounting services can benefit and support CRE operators. Not only does working with an outsourced accounting team help drive cost savings and operational peace of mind, but the right strategic partner can also provide CRE teams with valuable networking opportunities and access to highly specialized expertise.
G-Squared Partners is much more than an accounting service provider. We're experienced finance leaders dedicated to providing CRE businesses with unique guidance and a robust suite of services tailored to a business's specific needs.
This includes outsourced accounting and CFO services for real estate operators, including office, retail, self-storage, student housing, and more.
Don't let accounting tasks distract your team from core business operations. Let G-Squared Partners handle them. Schedule a consultation with our team today and explore how our services can propel and grow your CRE business.