What Do Outsourced Accountants Do?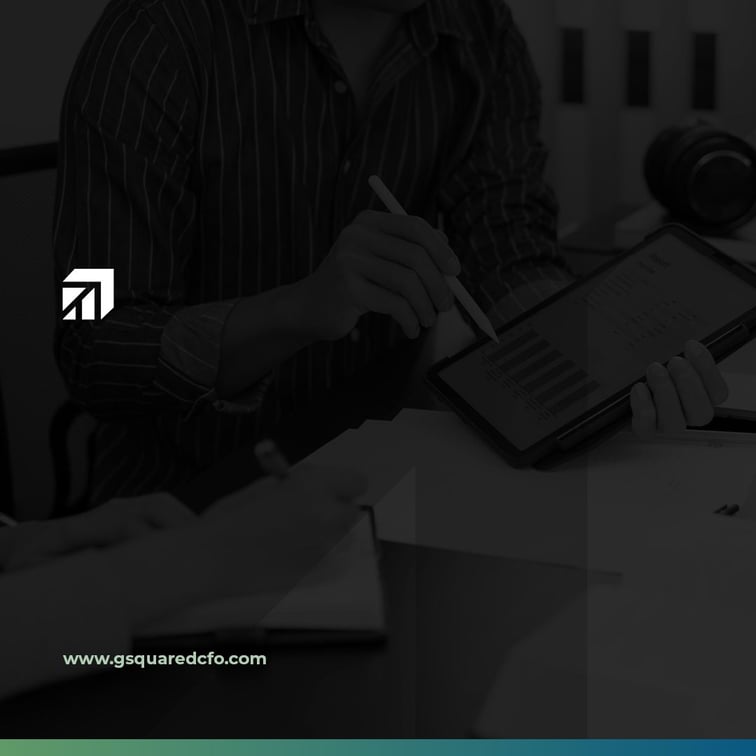 To be successful in today's ever more competitive business world, entrepreneurs and business leaders must have a firm grasp of their business's financial position. But for many, building and maintaining this understanding can prove to be a major challenge.
It's a pattern that we at G-Squared Partners see repeatedly, and it's one that causes real harm.
Before a business reaches $1 million in revenue, it might not have any accounting at all.
Between $1 million and $5 million in revenue, a business might just have a part-time bookkeeper.
Beyond that point, a business might have some internal finance support. But it's unlikely that they're fully leveraging the strategic insights that a proper approach to accounting and finance will yield.
All of this results in businesses leaving money on the table. Cash flows tighten, decisions take longer to make, and raising funding is more challenging. Despite this, it's difficult for businesses to justify the investment in building out an internal accounting and finance team.
That's particularly true for SaaS and technology businesses that are primarily focused on making investments in breakthrough product innovations, marketing, and sales to deliver hypergrowth. Investing in building out a non-revenue-generating function might be an unattractive proposition, but most leaders in this position know they need to do something about their accounting.
Fortunately, there's a perfect solution: outsourced accounting for SaaS businesses. Read on to discover how outsourced accountants can transform your business's accounting and finance function into a growth engine.
G-Squared Partners is an outsourced CFO and accounting firm built for the needs of high-growth technology companies. With years of experience in the SaaS industry, our team has the perfect skillset to build financial solutions that support the growth of your business. Contact us today to learn more.
Common Accounting Challenges in SaaS Businesses
If you run a SaaS business, you're probably well aware of how important accurate accounting is to the long-term success of your company. But despite that, accounting is something that many early-stage founders neglect until it's too late.
The rationale behind this is fairly straightforward. Early on, accounting simply isn't a focus. Without a winning product and loyal customers, you could have the world's best accounting infrastructure and your business would still fail. As a result, every entrepreneur's focus is on their customers and their product, leaving accounting on the back burner.
Provided your business has seed funding, growing revenue, and a relatively low cost structure, this approach can work for a while. But once a business starts to reach the point where they're pulling in around $1 million in revenue, things often start to break.
Certain events often trigger a business's need to invest in upgrading its accounting approach. Perhaps your business is in the process of raising a Series A and has to survive due diligence. Or maybe your cash balance is particularly tight one month and you have doubts about your ability to make payroll.
Whatever the case, a renewed focus on your business's accounting infrastructure can pay real dividends. And for many SaaS companies, partnering with an established outsourced accounting firm often represents the best option.
What is Outsourced Accounting?
When a business works with an outsourced accountant, it essentially transfers ownership of accounting work to an external service provider.
All types of accounting tasks can be outsourced: from basic bookkeeping tasks to advanced financial forecasting. Many outsourced accounting providers offer outsourced CFO services that help businesses build the long-term financial infrastructure required as they scale.
Outsourced accounting arrangements typically occur on a long-term basis: at G-Squared Partners, our average client works with us for three to five years. During this time, your outsourced accountant essentially functions as your accounting department: with the ability to handle new tasks related to accounting and finance as your business grows.
Outsourced Accountants for SaaS Businesses
There are many outsourced accounting firms out there, but few of them specialize in the technology and SaaS space.
SaaS business models are different: they're primarily subscription-based businesses with recurring revenue streams, are often unprofitable during growth phases, and rely heavily on raising funding from external investors. All of these intricacies mean that SaaS businesses should prioritize working with outsourced accountants who understand the technology sector.
Outsourced accountants can take ownership of a wide variety of tasks. These include:
Financial Statements

: under

GAAP

,

businesses should produce three key financial statements: a profit and loss statement

,

a balance sheet, and a cash flow statement. Outsourced accountants both produce these statements and help you interpret them.
Month-End Close

: finalizing and closing out the books on a monthly basis is a key task for accountants. An outsourced team will work through a systematic checklist of tasks to ensure an accurate and timely closing.
Customer Billing & Collections

: outsourced accounting teams can invoice your customers on your behalf, track accounts receivable, and follow up to make sure your business collects payment.
Accounts Payable Processing

: paying your vendors on-time is key to building lasting business relationships. Partnering with an outsourced accounting firm ensures you're always aware of your accounts payable position and are able to meet your responsibilities in a timely manner.
Establishing & Monitoring Monthly KPIs

: establishing a set of meaningful KPIs for your business and tracking performance against them on a monthly basis is crucial in understanding your business's wider performance. An outsourced accounting team can help determine which KPIs represent the best fit for your business and run the numbers on a monthly basis so you always know where you stand.
Payroll

: without the right processes, running payroll takes up a significant amount of time. Outsourcing this task to an accountant ensures a systematic approach with minimal error, adherence to all relevant employment laws, and data security.
Preparing Financial Forecasts

: a reliable financial model that outlines exactly how you plan to grow your business is an invaluable asset for every entrepreneur. An experienced SaaS outsourced accountant will build this model according to best practices, revise it over time, and help you understand how to leverage it to better run your business.
Setting Up and Managing Accounting Systems

: today, accounting is primarily handled in the cloud. An outsourced accountant will set up a digital accounting platform that uses powerful automations and integrations to give you a real-time overview of your business's financial position.
It's important to note that this isn't an exhaustive list of the tasks that you can outsource to an external accountant.
Provided you work with a reputable outsourced accountant, you'll be able to design a bespoke engagement that supports every financial need your business has. Services can range from simple bookkeeping tasks to sell-side advisory engagements and audit preparation, supporting your business at every stage of its lifecycle.
G-Squared Partners: Your Full-Service Outsourced Accounting Team
Reliable financial data is integral to the success of any business, providing leaders with meaningful insights into the performance of their business. This is even more important for SaaS businesses: organizations that often have ambitious growth plans fuelled by institutional investors.
If you're considering upgrading your business's financial infrastructure with the support of an outsourced accountant, the team at G-Squared Partners is here to help. We provide a full spectrum of outsourced CFO and accounting services specially built for the needs of venture-backed companies, startups, and PE-backed firms.
With years of experience advising dozens of SaaS companies, and a leadership team with a proven track record running finance at publicly traded SaaS businesses, our team is uniquely equipped to transform accounting and finance into a key growth lever for your business.
To learn more about G-Squared Partners' outsourced accounting services, contact us today.